The following comments have not been altered from their original form (other than the bylines and font changes). Feel free to dispute or agree with anything anyone has posted here. Of course, disagreement will be much more entertaining.

Also put your 2 cents in in our new, way-cool Discussion Forum


---
Asian Food
---
I just wanted to praise you on having good taste to not like Nit Noi. I am so sick of people saying Nit Noi is "great" or the best in Houston! It is very much sub-par and I believe that only people who have said this, or believe it, have never left Texas or who have never lived in a true multicultural city. Tolerable I would say closest describes it. I have been twice and really didn;t care for it either time! There is much better to be found in Houston. -KG 5/01

Oh, if you want good Japanese food, including Sushi, Ginza is still really the only place to go. Its on San Felipe in Tangelwood, in a cheesy little strip center. - CE

Rebuttal and then some

After reading "CE's" reply that "If you want good Japanese food, including Sushi, Ginza is still really the only place to go," I almost fell out of my chair in laughter. And you say that the guy who doesn't like Nit Noi is disqaulified to rank Asian food?

Man.... Ginza is NOT and authentic Japanese restaraunt. And don't even think you're pretty good by countering the argument with places like Kirin, Miyako, Cafe Japon, or the like. These are all owned by Chinese people (mostly Taiwanese.) Not that it's a bad thing if you like bland sushi that's cut so thin you'd almost mistake it for tissue paper. See, if you're REALLY looking for true authentic Japanese cuisine, you have to look elsewhere. Where? The Big Three. Meaning Sasaki, Teppay, and Gengi. If you know anything about sushi or any other real Japanese dishes, then after one bite, you can tell the difference. The fish is cut bigger, fresher, and has a better taste and quality to it that no other place can offer you. If the the employees, being all completely Japanese, doesn't already give away their authenticity, the food will. But I'll have to warn you that you'll be paying for what you get. In other words, bring two wallets 'cause there's no happy hour "sushi-for-a-buck" over there. All of which are located on Westeimer between Beltway 8 and the Galleria.

Ok, so you're a skinflint and can't shell out that much but still want something close to authentic. Well then, you might as well go to Kaneyama. Although it's Chinese owned, this is as close as you're going to get to the Big Three without the hefty tab. Kaneyama has pretty good food and even some of the waitresses can speak to you in Japanese if that's your tounge. The environment is ok unless hearing the same song repeated 30 times upon your visit is annoying to you. Most people who go to Keneyama like their set dinners. To me, I'd rather go straight for the sushi or stick with the Chirashi (sushi sampler with rice.) The best piece of sushi there is actually not the fish, but their Unagi (eel). Of course, if you're a regular or know the people there, you might have a chance of getting some REAL Japanese food from "behind the counter." Kaneyama seems to be the ONLY place that will fix you Okanamiyaki if you ask them nicely.

That's about my take on Japanese food. So Ginza being #1? Yeah right.... only if you don't get out of the house much. Anyone have some comment on Korean food that I can slam? - LM 11/00
---
Indian Food
---
I agree about the dearth of decent Indian food in Houston. There used to be a wonderful one called Natraj, but Pappas bought it and turned it into a parking lot for their seafood restaraunt. You can get a decent curry at the Khyber, but its definitely and Americanized experience. There are a lot of Indian restraunts and other Indian type organizations (?) in a cluster aroung 59 and holcombe. I suspect that real Indian food may lay in there somewhere, but I've not been adventerous enought to explore. Bombay palace is allright too, but its all strange and pink inside, and i think its a little overpriced. - CE

Indian restaurants in Houston come and go pretty rapidly, and one that is good today may be over the hill this time next year. I'd recommend Ashiana, far out west at Dairy-Ashford and Briar Forest. There also used to be a place called Haveli, a long way out Bissonnet, that served a very decent and inexpensice weekend buffet in pleasant surroundings. India's on Richmond is terrible. Khyber, Akbar and Bombay Palace were all pretty good at one time, but that time appears to be past.

Turning to a completely different hemisphere, I'd like to shed a tear for the once-excellent Cafe Miami, which I stopped visiting after getting sick for the third time. Cafe Piquet down Bissonnet is better, and is staffed by former Cafe Miami employees, but the most carefully prepared Cuban food I've found is at Latina Cafe on Fairview in the Montrose area.

Good to find your website. - RS 6/00
---
Greek Food
---
I agree with you about the Mykonos. Add this: The house dressing is yellow-green sludge, and is truly the worst I have ever tasted. It is not Greek, that's for sure. Why can't you get oil & vinegar at a Greek restaurant? What the hell were they thinking? Why does no one complain? Why don't the 10-15,000 Greeks in the city complain. Probably something some German tourist created while drunk on Ios back in the 70s. - anonymous #416

You could say something about Niko Niko's, that it is okay for College-style Greek food. No amazing things though. The big guy at the counter never leaves, except once a year, for Easter service. He is probably the friendliest cashier at a Greek restuarant in the world. - anonymous person #416

Why is so impossible to find good original Greek?
I give my arm for shrimp from Zorba's The Greek.

Yes, Niko's is good but no mangeable for lunch.

Have you heard of Greek Village on W. Grey ??? - JC 8/00
---
A Bunch of People Plugging Latin American Food (in order of believability)
---
The best Cuban restaurant in city is not mentioned in your site. Therefore, I assume you may not have visited. Well you MUST. It is Piquet's Cafe on Bissonett east of Hillcroft. Authentic Cuban food, and I should know because I'm an authentic Cuban. Your remarks about the food in El Meson are right on target. I agree with you when you say you can eat just as well by opening a can of black beans at home.

Try Piquet, you will love it. - A Garcia 11/00

You should definitly go to America's, their food is worth all the money! - Carrie J 4/00

Have to try the Red Onion Cafe' off 290 and 43rd area. Quality food, good service, spectacular presentation and inexpensive food with a Honduran twist. Many locals pack the place at noon with long waits; well worth the trip and wait. I suggest a 11:30 lunch - Russel M 2/00

We had dinner at Red Onion, the new place on Kirby. It was great, this new place is waiting for You. RDS 9/00

Spanish Vilage
Any plans to add Spanish Village to the tex mex section? If so, definitely try the frozen margaritas (shaved ice, VERY strong), enchiladas (recommend the cheese/onion), and you'll probably want to order queso (the salsa is nothing to write home about). I wouldn't get too adventurous, and the shrimp quesadillas are DEFINITELY to be avoided! - KLW 1/01

Chaco's is on Westhimer and a small street (Nantucket). Kinda like Taco Cabana atmoshere but the food ROCKS! Twice as much food for the same or less $$$$. Check it out. Late night it is packed and it is open 24 hours. Seems like when the bars shut down they all hit Chacho's. Kick ass breakfast too! - Opus71 9/99

Someone else also told me Chaco's had a cult following, so... 3/01

La Vista is on Fountainview between San Felipe and Westheimer. It's near theFountainview Cafe, right next to a liquor store, very convenient. Be prepared to wait for a table, but they have chairs set up in the parking lot, very classy. A lot of gold Rolexes, but they know good food and everyone likes BYOB. - PK 3/00


---
Other Second Opinions
---
Dear Old Bacon:

Okay, I went to Farrago's last night-on West Gray, near "This is it, Soul Food". An awesome looking cafe, but it has so much untapped potential that no one seems to know about it. It was deserted.

We had heard about it from one of those free circulars, but when we asked people downtown, they knew what we were talking about, but could not remember the name of the place. Kudos to the staff at Solero's. When we asked the bartender about Farrago's, the manager rounded up his entire staff and asked them if they knew where Farrago's was. One guy sort of did, and he called for us, got directions, and wrote them out for us. The staff at Solero's is awesome!

We went to Farrago's and left because it was almost empty at 11 pm. Whereas, if Empire were to stay open, they would be full at that same time.

But Empire has become so lame lately, that they close around 10:45 pm. What the hell kind of cafe is that? They ought to remame Empire the "Protestant Work Ethic Cafe."

Upon closing, the Empire refugees are forced to go to Diedrich's and listen to high school kids and Baylor med students bitch about their workload. Someone needs to open a true cafe where you can do cafe things in style. Try Old World Coffee, or for a totally unpretentious coffee, try French Riviera Bakery on Chimney Rock at 59. - WP 3/01

I totally agree with you about Back Street, great patio, bad food, and no Australian wine on the list. I kind of like Vincent's though, they pour nice G&Ts. Ruggles has great food, but way too crowded, and a nightmare at lunch. - CE

I went to Barnaby's based upon your recommendation. It was good. My 6 yr. old daughter who only eats chicken nuggets or steak ordered the strip steak. What a deal...a 12 oz. strip, fries and a salad for $10. - PK 3/00

Lupe Tortilla's is one of my favorite Mexican restaurants in Houston (Hwy 6 and I10). The best frijoles charros with your predinner chips and salsa and damn good fajitas. The only draw back is that their margaritas leave a lot to be desired. Guadalajara (Town and Country) used to be my favorite Mexican restaurant in H-town, but their quesadillas ain't wehat they used to be, but still an enjoyable dinner and margarita all the same. As for Venezuelan food...Cafe Caracas is very good (Dunvale and Westheimer). A bit small and pricy and some odd hours, but great food. These restaurants weren't on the lists reviewed so I thought I'd give my input. I'm curious to see what others think. - Jessica 3/00

totally agree with you about LUPE's Margaritas - sharp sour and too much crushed Ice - Steak Lupe is very nice. Dont like the fact that you have to go through the kitchen to take a leak. [a second email] After tasting one of them drinks, you need a sense of humour . hehehe - Neil from near London 10/00

i went to the Daily Review the other night, and under your influence ordered a Gewurtzaraminer (pardon approximate spellings) which was delicious much bolder than my mother's wimpy chardonnay thats for sure. the food was not so great - my fish was way too salty, the waiter was slow, the wine glasses were small and only half full. - CE 3/00

i disagree with the daily review cafe and basil's. right on with backstreet cafe and barnaby's however. brennan's has the best bloody mary's ever. really the only redeeming quality. - Cat 5/00

I especially liked the part about how people stumbled across your page! How do you find information like that? Or did you make it up? Try Josephine's downtown. Hole in the Wall but good food! Thanks for writing. LA - 7/00

I have a 16 year old son that I am trying to get away from hamburgers and fries. So, whenever he gets out of school early we pick a new restaurant down town. Some end up great—-some, well.....Today was a welllllllll Last time we went to Cavatores on Ella and of course his eye was drawn across the street to LaTour d'Argent. What a disapointment. For us both. Not worth the money any more and we won't be going back. But Cavatores was great. - GARCT 10/00

I do not know which gelato flavor you tasted - Marzipan Cherry Kirsch is great. When I went there [Dolce and Freddo] on a Saturday night at 11:30 PM - couldn't find a place to park. Walked two blocks - it was worth it. I wonder why you think this place will be closing soon, - RS 7/00

Napkins at Dolce and Freddo

Would someone explain that napkins should be provided with ice cream to the manager of dolce and freddo on St Felipe and Voss Anon 12/00

Response

Yes, someone shall. And that someone shall be I! When the people's work needs to be done, and it needs a champion, you can count on John Galt! I'll be taking this up with the restaurant management pronto. Meanwhile, if there are any other heroic acts of public service with which I can help, please do post them here! JG 1/01 [other works by JG]

Reply from Anon

Thanks John, that is great!!

Kofi Anon 1/01
---
Negative comments are always more fun than positive ones. The following are heated opinions about restaurants I have or have not reviewed myself. They are totally inspired, totally misspelled and totally worth reading, unless you have something better to do.
---
Ruggles in the Village (Indiana Jones and the Temple of Doom)
This establishment is a mess. The walkup to the counter system does not work during lunch and dinner. Too Busy. Line is long and slow. The staff does not meet the same high standards of the other restaurants. Very poor, inattentive, disorganized, unfriendly, non-English speaking. The food, priced the same as the other restaurants, poor quality, presentation and inconsistent. I have been there approx. 5-6 times since they opened hoping that it will improve, its getting worst. They need a waiter to wait tables. - anon. 12/99

Ruggles Cafe & Bakery in the village. Needs help! Poor system, no waiters, long lines, poor food quality and presentation. Staff is inattentive and poorly trained. This restaurant is a disapointment. - ML (Martin Luther?) 12/99
---
Corelli's (Kirby)

I am so sure! Calling this place an "Italian Cafe'" is an insult to even the likes of Biroperriti's! The service this evening (12/22/00) wasa slow, at best. Even though my friend and I were only two of the six patrons, we still had to wait twenty minutes for our waiter "Luigi" to bring bread and water. Dining there is cruel and unusual punishment for the hungry. I ordered the spaghetti with meat sauce and sausage. I do not know what my freind ordered because it had very few qualities that I would contribute to food, you know, hot, or room temperature, and edible. The meat sauce was canned and the sausage was raw. My waiter mumbled and ,eventually, shuffled off to fetch our meal, right out of the freezer and into the micorwave. After "sending the food back", I was presented with a bill. Even though the tab is pocket change for me, I do not want anyone to be decieved. DO NOT EAT HERE! Shou! ld you do so after this warning, you are on your own. BudMelton 12/00
---
Atchafalaya's River Cafe

I read your restaurant reviews but didn't see Atchafalaya's River Cafe on there. We had a terrible time there. The food used to be good, but now they put so much spices on it, that you can't actually taste the food. Also the stuffed shrimp still have raw shrimp when they were brought out. You would think for the money they charge for a meal, that the food would at least be edible. So unless you have a hankering for food that you have to have a fire extinguisher for your mouth, then I suggest you go elsewhere. I would vote for Joes Crab Shack across the street any day. When you have a family of 6 and don't go out to eat that often you do expect to at least get good food for the money. Heck, even the seafood boat at Rankin Rd and Kuykendahl have better food than Atchafalaya's and for less money. - Laura 2/00

Atcharebuttle
I know that this place has wonderful food. The price might be high be it is wonderful. And if you dont know where it is, there are only two in the whole Houston area. One off of 45 north and Airtex and 610 west ant T.C. Jester. Instead of talking bad about the food and the spices, you might want to try it out for your self. If you don't like spicy, seasoned food your might not like Atchafalaya River Cafe. But try it you might like it, and then love it. They have the best cajan food in Houston. - EB 11/00

Atcharebuttle II (the food of Great)

Re: About Atchafalaya River Café

I know about the food. I used to eat there and then i started working there. So i know that the food of Great without a doubt. I have only been to the one off of 45 north and Airtex. 11/00

Coldbacon
When was I talking bad about the spices? Oh, I see, you're responding to the person who send the above post. You addressed the email directly to me, your friend and humble narrator. People, you've got to help me out by starting your email with something like "re: laura's wrong opinion about restaurant A..." And as for trying it out myself. Now you've hit on something. By not trying it out myself, this is precisely where I exert my wisdom and save time, the kind of time it takes to do this ridiculous web site. Otherwise, my favorite line here is "you might like it, and then love it." It's lines like that one that make me totally happy to read people's wrong opinions.
---
Did Somebody Say Joe's Crabshack? It seems that everyone has something to say about this place. Check out this email couplet from Big Yankee

Part One

Joes crab Shack I-10 E . Small portions with enough french fries to feed an army.Cat fish are cheep Less than 98cents pd. Pay 11 or more dollars for 8 ounces of fish and a pd. and a half of french fries. Second time we were the 4th or 5 th couple in the place. Everything served cold , no way id send it back to the kitchen. Golden Corall I-10 e. of federal rd. The place is filthy inside. Look up , and along edges of floor. Thank you - Big Yankey-AOL

Part Two

——- Original Message ——-
From: Big Yankee
To: coldbacon@notmail.com
Sent: Friday, June 30, 2000 10:13 AM
Subject: Discusted

I want to complain directly to the head of each company and cant find them. Joes crab shack on I-10 E. is a joke for what you get and quality ill go to LJSilvers . And food being served cold, will you complain and send it back.LOL Golden Corall I-10 E you cover youre food for fear of the dirt falling from over head. And the floors are just as bad. Thank you - Big Yankey-AOL

Freedom of speech, baby, freedom of speech.

More opinions on Joe's Crabshack

While I would generally agree that Joe's Crab Shack is no restaurant I would
write home about, I LOVE their stuffed jalapenos. The jalapenos are pickled,
stuffed with a cream cheese/seafood mixture, and then breaded and fried.
They are stuffed whole and you get four (?). This is my personal definition
of food heaven. I often order them ahead of time to go. Then I don't have
to listen to them sing happy birthday to some poor schmuck at the next table. - CD 8/00

People's Teeth Breaking Off At Joe's Crabshack

I was writing you due to the fact i saw your website link for reviews of restaurants in the Houston area... Joe's Crabshack is owned by a company called Landry's Restaurant Inc.. I ended up filing a BBB Complaint and having to file a lawsuit.. if you want to add this to your restaurant reviews go ahead..

This is an email i sent to Landry's Restaurant INC

First, we had to wipe the seat off in order to sit down. Secondly, the server hardly paid attention to us, I had to get up and ask one of the other servers for a set of silverware. Finally, as I was finishing my appetizer (stuffed mushrooms), I took a bite and there was something in it that caused my tooth to break off at the gum line!! My family (wife and two children) were there... everyone knows i walked in with a full set of teeth. Then I walked out with one less. Your claims dept said there isn't anything they can do. Well, YES THERE IS!! I just lost one of my teeth that will not grow back in one of your restaurants. I will make sure that I let the appropriate agencies know as well as filing a civil lawsuit. Thank You Joe's Crabshack for a WONDERFUL EXPERIENCE!! Not only did I have the pain at your restaurant, now I get to enjoy further pain at the dentists office and in all the process of filing a lawsuit!!

Joe Rubino was the manager on shift. He was very polite and concerned about my tooth and my pain. I spoke also with the General Manager Brett Cazzell who seemed genuinely concerned. I later received a call from a claims rep, who informed me without having the object that broke my tooth off at the gumline, there is nothing they can do. I spoke with a supervisor who said the same thing. I have my wife and three kids as well as the waitress and Joe Rubino who saw that I was in pain and that my tooth broke off. Now I get to endure further pain and suffering by having to file a civil lawsuit!! I will definitely be filing civil litigation as well as letting everyone know about my horrible experience. - Vinprotect 8/04
---
Pappas (Clear Lake)
I'm in full agreement to you comment on the Pappasitos restaurant. I was recently in the Clear Lake location of Pappasitos and was highly disappointed not in the service but the management itself. There were several couples waiting for a table, for a considerable amount of time, while four tables were available for seating. When confronted at the hostess table it was disclosed that the waiter had not arrived to work yet. Had the manager taken charge, people would have been seated and served in a timely manner. When the manager was confronted on this subject his only comment was "he had served tables before and he didn't want to over work his employees". In my opinion his priority is in the wrong place. In a customer oriented business the customer should always come first. In the restaurant business the return customer is where the business is. I'm of the opinion I will not be returning to the Clear Lake location until a certain manager has been either replaced or trained in proper customer service. Once again let me state the food was great and our waiter was exceptable. - Laura 5/00

Rebuttle
I read what you wrote about the seating in a Pappa's restaurant. I have been a hostess for two years now and the situation where there are available tables and people waiting is common. I never understood it until I became a hostess. The problem is that restaurants are always understaffed on any given day. Therefore, they could sit you down at those "available" tables, but you would have no waiter. Waiters and waitresses bust their behinds all day long. They can only handle a certain number of tables at a time, that is if they are serving their customers to their fullest ability. So you decide, would you rather sit immediately and get bad service or wait awhile and receive good service? - Jessica 6/25

Coldbacon
I would think that the blame is with the restaurant owner for not having enough staff to keep up with the customer demand. Also, the hostess might even tell the people the truth (gasp) and see if they would rather wait at the table or at the bar. The people might rather wait at the table and at least have privacy and water until the waiter is available. Then the waiter could ignore them until he is ready to start serving them, and they will understand the situation.
---
"There are other aquaria all over the restaurant..."

Restaurant Review of The Rainforest Cafe in Katy Mills Mall*


The Rainforest is a family-oriented theme restaurant in the enormous Katy Mills Mall. Without a doubt it is visually arresting. In addition to the spectacular visuals, there are cute touches, like having the hostess give you names like "squid" or "Piranha" instead of asking your name for the reservations list.** They seem to have a policy, though, of making everyone wait, even if there are available tables. This gives them a chance to shop the very touristy gift shop in the front of the restaurant.
From the time you enter the restaurant/gift shop, your senses are overwhelmed by the rainforest atmosphere. The entryway is composed of connected glass columns which are actually salt-water aquaria. There are other aquaria all over the restaurant, in addition to mechanical butterflies, gorillas, and elephants. Greenery covers the ceiling except where there is a bare patch that is a planetarium-like scene with twinkling "stars" and zooming "asteroids". We never got bored with the atmosphere the whole time we were there, though the regular outbursts of grunting and squealing from the mechanical simians gave it the feel of a sort of upscale Chucky Cheese.
The cuisine is also very much family oriented, especially if you are a wealthy family. Entrees have exotic-sounding names, but are pretty much steak-and-seafood house fare. My wife had the vegetable stir-fry and I had the grill sampler (I forget what their stage names were). Both dishes were adequately prepared, but everything was significantly dosed with sugar, I assume to appeal to youngsters. The taste was not significantly different from a Chili's or Bennigan's, but the prices sure were. Entrees ranged from about twelve to twenty-five dollars for a plate which was large, but mostly filled with starchy foods like rice or french fries. Still, everything was tasty enough, though too sweet, and the service was reasonably good.
The Rainforest Cafe is a very good place to go for a special, but non-romantic occasion. Both kids and adults will be fascinated by the decor, if not by the food.

David N Ricci (DNR)

* Also known as A La Recherche du Ton Review

** Oh, now that _is_ cute!
---
EatZi's
Maybe I caught them at a bad time, but I found this place to be wretched.
I tried the tenderloin with bell peppers and I found a meal worm in it! Of course, I just couldn't get over it and I just couldn't finish the rest of my food. The bread was pretty good though...and whoever the manager is, he's pretty nice too. I just couldn't get over all of the bad reviews you gave to some pretty decent restaurants and then for you to give such glowing reviews to Eatzi's, well...I had to say something.
Your comments are pretty funny though.
---
Kenny & Ziggy's (not Ziggy Stardust) to your reviewer,
hair in the coleslaw! rude staff! dry.old meat! I'm from cleveland heights, i know good deli. this ain't.
please see for yourself. guess they thought they could steal gogenheims thunder. guess again.

just food for thought - 8/00 J
---
Best Places to Buy Bread
Best Place to Buy Bread in Houston
Empire Bakery

Best Regards,
Camillus Kerwin
---
Please Try This Restaurant
---
The Black Lab

Fan of the Black Lab

I would love to read a review of Black Lab on Montrose. Although not a food or restaurant expert it is one of my favorite places.
Certainly better for review then CABO's. SW 12/00

Ricardo's

TRY RICARDO'S MEXICAN FOOD THEY ARE ABOUT FIVE MINUTES FROM THE HEIGHTS. LOCATED ON 45 NORTH AT GULF BANK. THIS RESTAURANT HAS BEEN SERVING SOME OF THE BEST MEXICAN FOOD SINCE 1967. FAMILY OWNED AND OPERATED...

THANKS
MIKE

Why do I get the feeling this guy's last name might be Ricardo?
---
Discussion Forum
---
Italian Food Stores
enjoyed your review of Italian eateries in Houston. Do you know of any Italian food stores in the Houston/Harris county area? - Allen A 3/00

Coldbacon
i'm glad you liked the Italian reviews - such a problem - Houston's not doing so well with Italian food - for whatever reasons - but there are some decent efforts - Italian food stores - another problem area - i know of di amico's in Rice Village near where I live - and any Antone's deli will have a minimal selection of Italian items - cheeses/meats etc. - Spec's downtown has Italian and other gourmet foods in their deli - as for a REAL great Italian specialty - shop in Houston - i just don't know of one - but maybe someone else does? thanks for visiting the site.

---


Looking for good bulgogi

I enjoyed your review's but there were many different types of ethnic restaurants not reviewed. I was looking for a good bulgogi restaurant. Korean.

Rory J Lettvin SN 10/00



---


Do Restaurants Re-Use The Bread?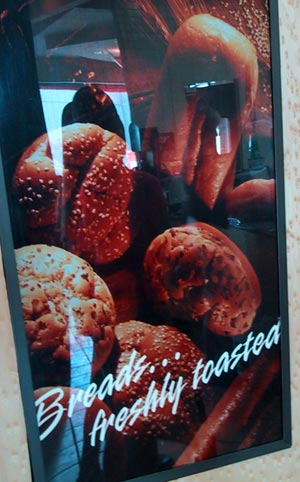 I just want everyone to know that there is this italian restaurant in rice village called Prego which usually get's good reviews, but, let me tell you a little story. I know for a fact, and will go to court and testify, they re-use the bread and oil that is brought to the table. If you don't eat all the bread in the basket, it will be brought to the next table, often times, even if you eat a partial amount of a piece. The same is true about the oil. If you don't empty the bowl, it will most likely be used at the next table! The food is pretty good and it is usually crowed, but beware, it is not the most sanitary place in town. The pasta often drains in the collindar hanging over the trash can which people spit in and throw disquisting stuff in. This restaurant needs to be reprimanded for it's poor practices but the health department can't catch them because they give to much warning before they come in. So, the next best thing is to let the people of houston know what is going on behind the scenes at Prego Restaurant. I worked there so I know this is a fact, I just had to let people know what was going on. Have a good time! 11/00

That certainly is disquisting!

Owners Take Umbrage

Interesting but untrue comments about my restaurant have been printed on this site. Prego never recycles its bread and we wish the health department gave advance notice. Despite the inference by an alleged ex employee of unsanitary food practices we have been awarded 3 "Blue Ribbon " awards. Prego has one of the lowest employee turnover rates in Houston so usually when we come across a disgruntled ex employee we consider the source wish them well and ask that they do the honorable thing and tell the truth. And use your name. John 'Big Daddy' Watt.